Information for your arrival at the Airone Parking
1
Book
Book online by entering the requested data.
You will immediately receive a confirmation email with the booking summary.
2
Reach our Car Park
To reach our car park, follow the directions mentioned on the "Where we are" page.
It is recommended that you arrive at least 2.5 hours before your flight departs.
3
Collect the ticket
As soon as you arrive at the entrance, you will find the automatic entrance that will issue the ticket with the date, time of entry and your vehicle's license plate. Keep it, as you will need it for the payment that will take place upon return.
4
Leave the passengers
Go to the DEPARTURE area of ​​our parking, making passengers sit.
5
Park your car
On the other hand, the driver follows the parking staff on where to park the vehicle.
6
Remember the name of the street
Each parking street has a name, to quickly find where you parked your car, we ask you to remember the street name.
EXAMPLE: Via Cefalù, Via Erice, etc.
7
Take the shuttle
After parking your car, go back to the DEPARTURES area, where you will find the shuttle to take you to the airport.
8
Have a nice trip!
Information for your arrival at the Airone Parking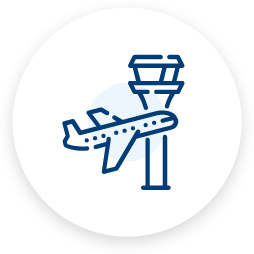 9
Write a whatsapp message
As soon as you are about to board your return plane, please send us a Whatsapp message to +39 3407011024 writing: the origin of the flight, expected landing time, number of passengers.
10
Reach the meeting point at the airport
The shuttle will wait for you at the meeting point where we left you.
For any communication, please send a Whatsapp message.
11
Take the shuttle
The shuttle will take you back to the ARRIVAL's area of our parking, the bathrooms and the snack area.
12
Make the payment
The payment methods allowed are Cash or Card.Payment takes place in our office; furthermore, for those who pay by card, payment can also be made at the exit's gate, without stopping by the cashier.
13
Exit the parking lot
After payment, you have 30 minutes to exit the car park.
Follow the signs that will direct you to the parking exit
14
Have a good return home
As soon as you exit, respect the STOP and the mandatory direction on the right to the A29 Palermo - Mazara del Vallo highway.